Who would have ever thought I would be "blogging" about make-up & skin care?
I can tell you I am actually surprised myself!!!
When I joined Younique in November 2014, I hadn't even tried the 3D Fiber Lash Mascara. I had ordered it & a friend was leaving on vacation & bought it from me the day it arrived. I messaged Kelsey, who I had ordered it from & told her I had sold mine to a friend and needed another. We chatted about for a few minutes and then she asked if I knew they had more than just "magic" mascara??? I said, "No".
About 30 minutes later I signed up to be a presenter, WHY NOT? $99 for $214 worth of makeup? I LOVE a good deal!!! I thought I would just sign up to sell to my family & close friends and get my make-up free!
My presenters kit came and then I was hooked…
What's eye-some about April??? The Customer Kudos! The Easy on Your Eyes Bundle has 4 of our Moodstruck Mineral Pigment Powders, a set of the "magic" Moodstruck 3D Fiber Lash Mascara and the Shine Eye Makeup Remover Cloths! It's $99 worth of product for $74 (… you know 74 is my favorite number right? I wish I could take credit for setting this corporate price!)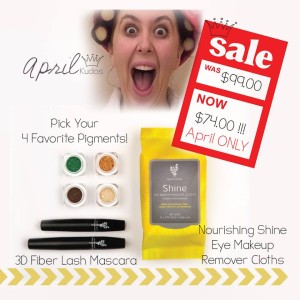 Take a peek at this eye-mazing little deal on my site at
Do you have questions? You can reach me direct through my site or send me an email at [email protected]
Have a fabu-LASH day!!!