FEEL BEAUTIFUL!! LOOK BEAUTIFUL!!!!
BE BEAUTIFUL INSIDE & OUT!!!
Welcome to my Younique page!!!
This is just a short look into my fabu-LASH business!!!
I am a Pink Status Presenter with Younique, a USA owned cosmetic company! I joined this amazing corporation after trying their #1 selling product the 3D Fiber Lash Mascara!!! Have you ever heard about it?? If you just answered NO, I would LOVE to tell you more about it!!! You can also click
& browse all the amazing products we have to offer!!
Younique's mission is to uplift, empower, validate, and ultimately build self-esteem in women around the world through high quality products that encourage both inner and outer beauty and spiritual enlightenment while also providing opportunities for personal growth and financial reward!
I love this company, started by a brother & sister in Utah! Not only is it a family affair, their cosmetics are ALL NATURAL!!!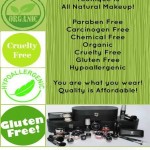 Do you have questions??? You can always contact me at stephanie@loveneverforgets.com