The Dugout.
Where new friendships are formed, hardships are overcome, laughter is shared, encouragement is given, and memories of a lifetime are made.
When I think back to my days playing softball, I honestly can't tell you how many games or tournaments we won. How many times I struck out or made the game winning hit. What I can tell you now is the friendships that were formed behind the chain link fences of Jacob's Park, in the "dugout" came something so incredibly special.
As I listened to Coach Beau talk to the girls Sunday after a tough lose to the Avalanche, I knew he saw so much more than most as we were putting the tough weekend we had behind us. I kept thinking about the quote, "The strongest people aren't always the people who win, but the ones who don't give up when they lose."
Let's face it, it's easy to get caught up in the moment and not be able to move forward. What I love about this game is the ability to take teachable players exactly how to do that very thing. Move forward. Inning by inning. Hit by hit. Breathe. Let it go.
Regardless of the tough weekend, our girls show so much GRIT when they come together. We did show our age, we are a young team of mighty Emeralds, and we made rookie mistakes. I know I look forward to watching them continue to grow.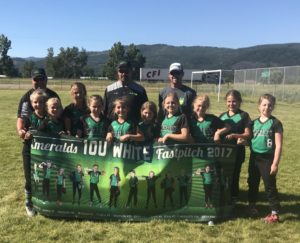 I just know that these last weeks the girls have shown me (I'm sure many will agree) more than I expected … it speaks volumes for the potential that lies within. That is what is truly more important than any win, is the desire within. Not to be the best, but to always give your best. All things our girls are learning inning by inning in the dugout.
Shout outs to:
Taylor and Nakia in the circle last weekend. WOW. Just WOW! These two girls stood in and pitched their hearts out. They both lead their team into the weekend and kept us in the games.
Charolette had a great play stopping an infield hit and throwing to Kyleigh right out of the box Saturday morning. She also had an excellent infield pop fly catch against Polson later in the day.
Ellie grabbed a bunt and threw to Ky at fist to get another infield out in that first game Saturday morning. She had a great play catching an infield fly ball Sunday against the Avalanche to get the out and end a tough inning.
Rylee grabbed a hard hit and making the out with Ky, continuing the spree of great plays in a tough game Saturday morning.
Kyleigh had great plays defending first with her team.
Nakia snagged an infield pop fly Sunday morning against the Avalance that had us on our feet. 
Kiera, she's a fighter in the batters box. This girl is one to watch, I am still putting my money on her for a homer before anyone else. She's hungry, I know she will get it.
Addison and Madison are battling every inning in the box and in the field. I'm not going to ever call favorites with any of these amazing girls, but I will say these two have the best smiles and those smiles are contagious whether we are winning or losing… they are gifts we all need on and off the fields. 
As for Mackenzie, I think she's found what she loves, and it's behind home plate. She caught 6 of the 12 innings we played last weekend and came into her own. She gave her heart, and we will nurture that fire that's there…
My favorite moment of the weekend was Sunday mornings opening cheer the girls did. I didn't record it, it's the first one I've missed, but I was coming back from the ladies room and was late to the punch. The game starting cheer included the girls bringing their coaches into it… it shows a lot about what they think of them and I hope that years from now they have these men in their life cheering them on.
Most importantly, I hope that they form a lifetime of friendships in the dugouts they share now.