The afternoon of September 17, 1984 the world of my family, friends and community was forever changed. The disappearance of my sister, Vicki Lynne, would become so much more than we ever knew.
In the days and months that she was missing, people tied yellow ribbons to everything as a symbol of hope for her safe return. On February 7, 1985, Vicki had been missing 143 days. To bring a positive token of love and hope for her safe return, our family with students & teachers from Homer Davis Elementary School, planted a Palo Verde tree in the courtyard. Yellow ribbons were tied to the branches of the tree. https://youtu.be/v0W4U0GLhDo
For the next 30 years the tree grew tall and strong, blooming yellow flowers, still representing hope as we fought to bring justice to her. In October of 2015, the tree was uprooted and blown over in a storm. We were devastated that the beautiful symbol of love and hope was forever gone, and although we thought to replace it we knew we never could properly do so.
With the help of some amazing men, we were able to have a bench made from the wood of the Palo Verde tree and just a few short days before school started this August, the bench was placed in the front office of Homer Davis Elementary bringing back to the school the beautiful symbol of hope in Loving Memory of Vicki Lynne.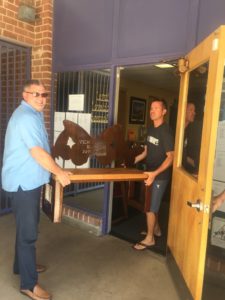 My mom and dad were able to take a special part of the tree which they will hang in their dining room, it will have the scripture "With God all things are possible" Matthew 19:26 placed with it.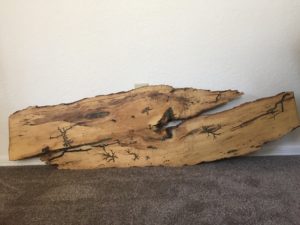 I'm so very grateful for all those involved in making this possible. What started out in February of 1985 to be a positive tribute to my sister, still gets to be part of our lives for years to come.
A very special thanks to Jaime Sirminski who spearheaded the project and was able to put it all together, Rob Assenmacher, of Kevin Stout Operations who did the the CAID laser cut of the butterfly backing, and Matt McDonald of MHM Resources for milling the wood. I hope you realize what an incredible gift you have made by taking something so important to so many and making it beautiful again. 
To Dr. Baker, Superintendent of Flowing Wells Unified School District, Mr. Dunbar, Principal of Homer Davis School,Chad Miller, Principal Flowing Wells Junior High School, and all the staff, thank you for encouraging us to keep a piece of Vicki's memory forever part of the school.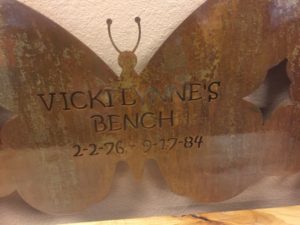 Vicki lives on in so many of us, our hopes are to continue to honor her in a positive and beautiful way. I encourage you, today especially, on the 33rd anniversary of her disappearance to share any stories you may have about her. If you never had the chance to meet her, share how her life and death impacted you… we will never be able to know all those who she has touched, but we do love to know her voice in strong in us all.
If you happen to stop in and sit on the bench, be sure to share a picture here or via Facebook.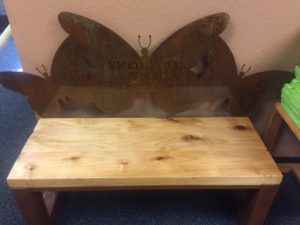 Today we will honor the beautiful little freckled face, blue eyed girl who lives in our heart forever.
Don't forget Vicki Lynne.