We love to fish! 
We are lucky to live in a place that lakes, rivers, ponds and streams are so abundant that we can go 5 minutes from home and spend an evening fishing with the girls.
No, we are not professionals. It's why we call it "fishing" and not "catching". Scott has always loved to fish, from the time he was a little boy. It's something that he talked about  when I first met him and is a past time we are enjoying with our girls now. Honestly, in the beginning, I would rather ride around in the boat, eating snacks and having a few cold ones. I've never been much on touching the worms, or baiting my own hooks. But I have actually really grown to love fishing more now than ever because it is something the four of us can do together. 
Lately we've tried to take the girls fishing close to home for a few hours in the evenings.  Last week we loaded up the girls, a picnic dinner, a blanket, our poles and headed to the Pine Grove Pond. This is a wonderful facility that sits amidst land donated by the Street Family. It makes it that much easier for people who can't get out on a boat to still take their kids for an evening of fishing fun.
Kalispell Fishing Pond Guide is a complete list of ponds around the valley. I think we caught  7 fish last Wednesday. None of the fish were very big. But, then again, it's more about making memories for them, the excitement in their voices and the smile on their faces as they are reeling their catch in.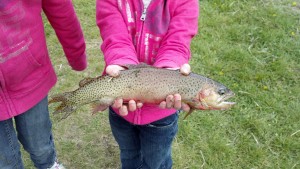 Ok, so it is a little funner to catch a big one. 
Mackenzie's favorite song right now is "Just Fishin" by Trace Adkins. She plays it over and over on her iPod, singing along the best she can. She wants her own pink fishing pole for her birthday…. and I'd be willing to bet if Scott asked right now if they wanted to go fishin' they would be out the door. 
"…and she thinks we're just fishin', we ain't only fishin'….. this ain't about fishin'…."